Big Sky Balloons "The Pioneer of Giant Advertising Balloons and Inflatables" has been a part of the Chicago horizon for the past 35 years!
Our research & development team has perfected the Ultimate Aerodynamic Advertising Balloon!
Big Sky utilizes the best in craftsmanship and quality materials available today!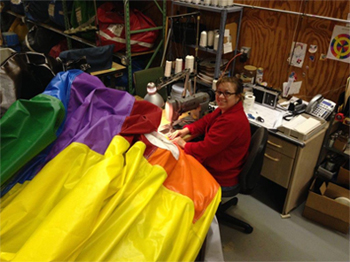 RENTAL ADVERTISING BALLOONS
Big Sky offers "bright multi-colored" and "patriotic red, white and blue" Balloons.
Available in 2 sizes - 20 ft. and 26 ft.
20 ft. Tall System
Approximate Banner Size
5 ft. x 9 ft.
26 ft. Tall System
Approximate Banner Size
7 ft. x 11 ft.
Multiple Banners may be applied to gain maximum exposure (North, South, East or West)
Advertising Balloons are "Internally Illuminated" at night!
---
Big Sky will "Professionally Install" your rental advertising balloon at the location of your choice.
The only requirement is a 110 V Outlet and a clear area of approximately 18 ft. x 18 ft.
GROUND INSTALLATION: 4 ground stakes are normally installed to secure balloon.
---
ROOF INSTALLATION: (Extra Charge Applies)
We require a 110 V Outlet and ample space for the balloon installation. Secure anchor points may need to be professionally installed by Big Sky Balloons (See roof installation diagram)